Hello everyone,
I just came across this site a couple months ago, first time entering and writing a tutorial so here goes.
After seeing the three ring binder in the SEI, I immediately thought Evil Dead style book. The pillow had me stumped for a bit, but I decided to make it into a carrier for the book. After sketching out the basics, I took a binder and cut it to fit pages folded in half.
Next I used sculpey to shape out the face and other features. I molded the eyes around some beads of yellow glass I had and baked the clay with the beads in place to prevent shrinkage. The upper eyebrows are seperate from the lower to make it easy to remove the eye-beads later. I made the tooth holes by pressing an already made sculpey tooth into place and retracting it. I made a multi-piece ear for the back, then thinking that would still be too bare for my taste, I also made a ton of random shapes. As is my custom, rather than roll leftover clay back with the rest, I shaped it into extra teeth for future projects.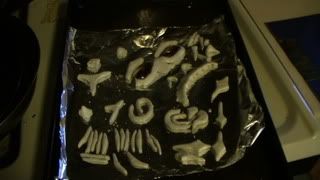 Next I spread a latex mold-making compound and cotton over the whole thing to hold it together and give it texture. I used Castin' Craft brand on this project, it's thin enough that it's easy to work with but it (and alot of others) have ammonia added as a drying agent.
When both the outside and inside covers were dry, I painted it with common acrylics.
Due to time constraints I reasoned it would be best for the pages to be printed rather than handwritten. Since I don't expect this prop to be held up to insanely close scrutiny I simply took a bunch of old papers saved on my computer, changed the font to a runic font I found somewhere along time ago, and added various images from old woodcuts. Non of the artwork is mine, most of the sites it came from don't list definite sources. The majority came from www.godecookery.com/macabre/macabre.htm
I'd include a link for the font, but I forgot the site years ago.
At this point, while gathering a few odds and ends, I had this:
Before putting the pages in the book, I tried to age them with an acrylic wash. The finish would look great if the ink hadn't bled. I figure it'd bleed through if I used the old tea/coffee method as well, and I'm not going to risk setting off the smoke alarm trying to bake them. I've heard horror stories of oven-aged papers bursting into flames and there's a hefty fine for setting off the alarm in my building.
After roughing up the edges a bit, I bound the pages by holding the spine-side together and pressing hot glue into it. I then attached it to the book with some scraps of green felt. A long scrap was placed behind the pages in the spine as a bookmark.
At this point I set to work on the carrying basket. I spray painted a wicker basket (the only thing I had to buy, everything else I already had) and gutted the pillow so it would fill the basket without overfilling it. Hot glue holds everything together.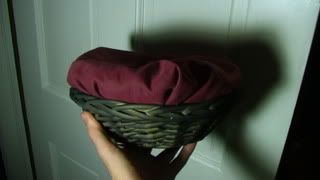 Wow, photobucket says all these pictures are the same size. I used their resize tool to try to make them manageable, maybe it works slowly.
Invoking the rule of four is death (http://tvtropes.org/pmwiki/pmwiki.php/Main/FourIsDeath) I hung four copper chains from the rim for further decoration.
I put the book in the basket, as well as some painted sculpey disks with Lovecrafts branch-like design for the elder seal on them, placed the basket, a dagger (I didn't make it, but it looks cool), and some candles on a pedistal, and took my pictures. Future plans for the Book of Evil include being a set piece for a halloween party, prop in a possible haunted house, and prop in a short film if I can get people motivated.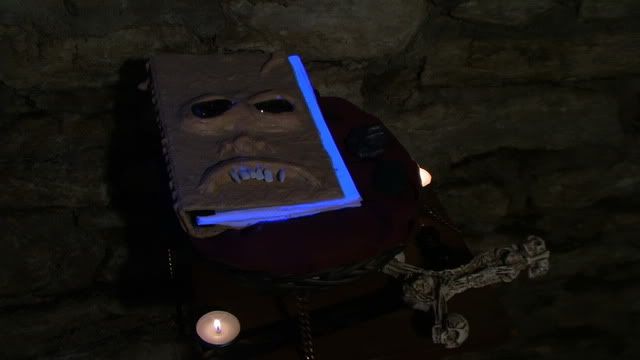 If anyone has questions, comments, or ways to improve, post away. I'll be gone for the next 5 days or so but I'll get back to you eventually.